<![if !vml]>

<![endif]>† <![if !vml]>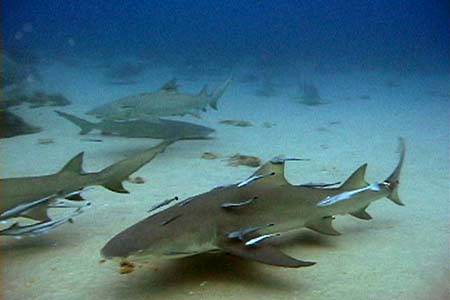 <![endif]>††<![if !vml]>

<![endif]>
(Some fish are so lazy! Slipstream riders.)
LEMON SHARK DIVE IN JUPITER ! ! !
Time to go see the lemon sharks . . .
Syd and I are planning on a dive to go see the lemon sharks on the Atlantic side.
This will be a two day dive. You can dive either or both days, your choice. I suggest you try to do both trips and get the most for the drive over, etc.
DATES:
Sat. Feb 23rd
Dive boat leaves the dock at 1pm SHARP. Need to get to Jupiter Dive Center NO LATER than noon.
This will be a two tank trip, returning about 5:00pm
Sun. Feb 24th
Dive boat leave at 9:00AM SHARP. Need to be at the dive center no later than 8:30, 8:00am is suggested
Syd and I will drive to Jupiter on Sat morning, arriving at the dive center at noon. We ill depart Jupiter about 1pm on Sunday.
COST:
You can just dive one day if you want! And while you donít have to stay the night, etc if you donít want to, but it is recommended. Itís a LONG day to go there and back in one day, but it can be done.
Each two tank trip on Sat or Sun is $60 per diver.
Tank rentals (Air and EAN) are available at the shop. (Their default EAN fills are 36% as I recall.) Itís about $15 a tank as I recall, so each trip would also have $20 - $30 of fill fees.
If you need to rent equipment, contact the dive center for prices. If you are diving both days, tell them Ė they may give you a discount, etc.
Operator:
http://www.jupiterdivecenter.com/
We have been with them twice, they have good boats, very good staff and reasonable prices.
Lodging:
We normally stay at the Jupiter La Quinta. It is about 1 mile away from the dive center. They have a free light continental breakfast and free wireless.
http://www.lq.com/lq/properties/propertyProfile.do?ident=LQ6109&propId=6109
I HIGHLY suggest you book your room asap.
A double room is going to be about $130, so about $65 a piece if you share.
(Rooms in Jupiter are not too cheap, itís an expensive town for a room. This place is the closest and itís clean, etc.)
DIVE DATA:
Syd and I will be conducting a scientific dive to determine if lemon sharks actually taste like lemons. Our methodology with be to entice the sharks to come within contact range using a bag of limes (law of attraction.) We will use a mass of limes equal to the square of the weight of a mature lemon shark Ė the attraction of the limes should extend in a radius following the inverse square law. Any lemon shark within that proximity will be unable to resist and will be drawn to the limes.
† <![if !vml]>

<![endif]>
In addition to seeing lemon sharks, expect to explore some ledges having a profile of approx. 6í to 20í. We usually parallel these ledges and there is a very respectable quantity of tropicals, hard and soft corals and a good density of marine life. Last time we also saw lobsters, a good sized sea turtle and several moray eels.
Water temp, expect low 70s. Vis could be anything from 60-80+ (itís been pretty good for us before!)
<![if !vml]>

<![endif]>
There may be strong current, not too bad on the bottom though.
NOTE Ė IMPORTANT: Be prepared for a FAST boat exit. Have all gear ready. Think of a TV show of a military team entering the water Ė be prepared for that speed of entrance. If there is strong current there may be additional fast-entry procedures.
<![if !vml]>

<![endif]>
These will be boat dives in depths to approx. 80 feet. Nitrox is going to be preferred. Other wise your dive time will be limited to :20 to :30.
There will be a dive master / guide in the water with us. The two previous guides have done a fantastic job pointing out things to see.
Boats will carry either 20 or 15 divers, depending on which boat we are on. Expect them to be full.
CONCLUSION:
Total cost for all four dives and your share of a room should be $200 - $250 †Ė this is a great price for four dives. (This will not include any equipment rental)
Leat me know ASAP if you can go.
I want to get a head count and get our spots reserved ASAP.
If you just want to dive one day and save about $70 it is still worth the trip. If you can afford both days, that is the way to go.
If you want me to take gear in my truck I am happy to. You can give it to me at work on Friday Feb 22nd.
<![if !vml]>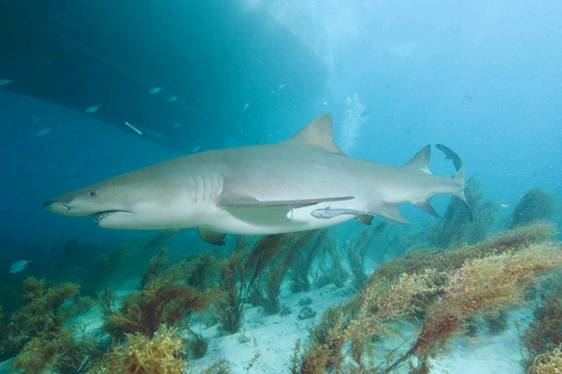 <![endif]>
I am friendly and will not eat you.