Well, that most likely tells you what you need to know, but . . .
I am some guy currently living in Tennessee with my lovely companion in crime, Sydney. (She is great by the way – pushes Linux at work, plays video games, loves Sci-Fi – – and NO she is not interested in you IMing her.)
I like Linux. Actually I more than like it, it is a passion. But I also love the outdoors, hiking in remote wilderness areas in Colorado and Alaska, aviation, scuba diving, travel, chess, math, Sci-Fi, a good book and all things worth living life for.
I currently work at Oak Ridge National Laboratory,  where I am a Linux  Sys Admin primarily supporting systems used for scientific computing and research projects, such as NASA's Distributed Active Archive Center.
I started this blog about two years ago – mainly as a social experiment, to see if I would like it and if it would help me stay in better touch with friends and family, etc.
I also have a Wiki at which is primarily focused on IT and Linux topics. Visit that too if you like.
I will be experimenting with this blog to see how well it is received and how much I like it. Please fell free to leave any comments you might have.
Thanks for visiting.
Pete Eby
ebypi at ornl dot com
Public GPG Key Fingerprint
C293 1484 BE16 0783 E743 61BC 33DE A3BE 676E F2CD
Find me on Linkedin
Research I'm interested on Mendeley
Update:
I have had this site up a bit over two years. Really I didn't know what to expect when I started it, if anyone would even look at it, etc. I have found I really like writing the blog posts and wiki articles and have been surprised at the amount of traffic I am getting. I will keep adding content as long as people seem interested.
If you have stopped by, thanks for visiting. I would love it if you left some comments. I see very good traffic, but not a lot of comments and would like very much to hear from you.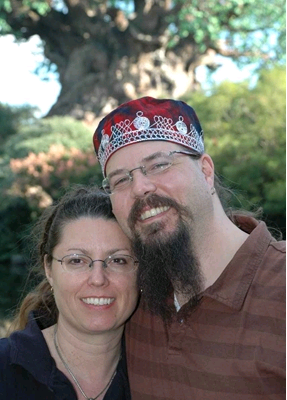 Syd and I in front of the mythic Tree of Life
Yes, it really is the Tree of Life.
Yes, the beard is real and growing daily. (Required for Linux)
No, I am not Muslim, though I do love Theology.