by admin on Sep.10, 2007, under Dive Trips
Syd and I went to Jupiter this weekend for a two day dive trip. This trip was coordinated by Macs Sports and consisted mostly of Tampa / Clearwater customers from their stores. Our group was 19 divers plus our dive master Travis, and the dive master provided by the dive operator. Jupiter Dive Center conducted the trip. (We had been with them once before last fall and had a good one day trip and were looking forward to this one.) We dove Saturday and Sunday, two dives each. These were boat dives in the Atlantic just outside Jupiter Inlet. The dives themselves were all Nitrox dives (34 – 36% O2 mixes) to depths of 65′ to 80′ and from about :35 to :45 minutes. The first day the seas were 5 feet or so, and leaving the inlet was somewhat adventurous, the waves swell pretty good coming in the narrow shallow inlet, so busting through them to get out was pretty fun with some good pitching and rolling – it was thrilling, and only lasted about :5 minutes. Once out of the inlet, the seas where manageable, but enough to cause a good 5 or so divers to get sea sick. Ah, the joys of diving.
The dives themselves were fantastic and were the among the best for scenery and life we have seen here in Florida – the diversity of fish and the reef structure easily rivaled what we saw in the Keys. The first dive was primarily for lobstering and was in the rocky flats running along a low edge. A couple people caught lobster, but only a few. There were a few that got away too – hiding under their rocks and for some reason not jumping into the bug bags. It was fun to see them lurking under the rocks and learn how to find them though. Divers use a snare pole to hook them with and a mesh bug bag to put them in. Lobstering season is a BIG DEAL for divers around here.
Since lobsters seemed few we decided to just sight see and if a lobster came alone, fine. That was great as Syd and I were not lobstering anyway (no permit nor equipment – we just wanted to watch this time). The next three dives were all fantastic. They were in different locations, but always along a reef ledge with excellent structure, usually about a 10′ or so ledge profile with lots of little swim throughs and ledges for all manner of critter habitat. Water temps were in the mid 80s so no need for wetsuits! Visibility was pretty good on all the dives, average of about 40′ – plenty fine to see well. A mild current made drifting along the reef effortless.
Some of the highlights included: I sparred with a huge lobster by extending my forearm and finger and he used his antenna and fought me off. Defeated, I swam away in fear. We saw many tropicals: various damsels (yellow, blue/yellow, brown), trigger fish, HUGE beautiful Queen Angelfish, a 60 lb Goliath Grouper, a nice large Loggerhead turtle resting in a crevice, a few green moray eels, a black and white eel, a scorpion fish (don't touch – but pretty, and it had purple under it's wings), parrot fish (bright purple/blue and Mexicali ones). Syd saw a unique sponge like soft coral than was purple inside and closed up completely when she approached. Twice on surfacing we encountered jellies – once there were three of them around us – in front, behind and to the side! They were at about 15′ – perfect for drifting into during the safety stop, but were very pretty – they were transparent of course but with a bright pink hue.
So no doubt about it – the diversity of marine life was great and conditions were very favorable. We had a great time and will go back again I am sure. The dive masters from Jupiter Dive Center (Lisa and Kimberly) were very good, as was Captain Mike (he whips that boats around as he heads right toward you and swings it about and makes it look effortless). Everyone from Mac's had a great time it seemed. Saturday night several of us went out for dinner and had a good time and celebrated Travis' (our dive leaders) birthday.
After our last dive Sunday we toured the Jupiter Inlet light house. It was fun to visit it and the museum and we took some photos. The lighthouse was light in 1860 and has been in continuous use since, save only during times of war. It was fun to climb to the top and see the view of the coast. It is about 58 feet lower in structure than the St. Augustine light house but because they had the advantage of a hill to build upon (St. Augustine's did not) the light itself ends up about the same elevation and can be seen for 24 miles from sea. It has a very distinctive solid red day mark with a black top. Syd Got some great shots of the Lighthouse: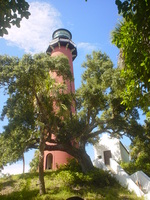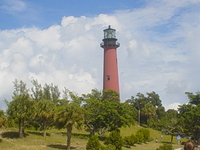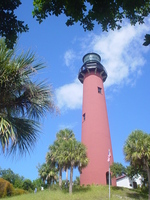 You can read the historical sign by clicking on this thumbnail image:

It was a great trip and we look forward to retuning in December / January to see the annual migration of Lemon Sharks – you apparently can encounter groups of dozens which gather together in the winter.
2 comments for this entry: