by admin on Apr.29, 2008, under Dive Trips
Wow! This weekend Syd scored in a major way at a scuba sale at our local diving store Mac's Sports. Each year they have a few big sales with special promotions and raffles. We went last year and didn't win anything, but it was still fun. The vendor reps are there to answer gear questions and there are presentations all day on underwater photography, spearfishing, diving techniques and equipment. But of course, there is the raffle drawings through the day. I went early in the morning and bought 6 tickets for $5 and hung out talking with all the shop staff for a while – most of whom we have been diving with, etc. I went home and we did some things and then went out to grab lunch and hit the 11am drawing where they were giving away the dive computer. And here is how it happened:
Syd walked in and bought $5 in tickets. About 5 minutes later they held the drawing. Sure enough, she won – the happy and surprised new owner of an Oceanic Geo dive computer! Wow! That was cool! It's a very nice computer – I considered it as a potential one last year when it came out, though we ended up going with our Mares Nemo computers. The Oceanic retails for about $430 and is going to make a perfect secondary computer for Syd. They even let her pick what color she wanted, she went with the yellow and black titanium bezel one. It a sleek little thing for sure. She was very happy.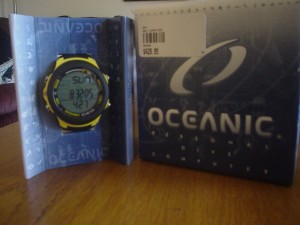 We then went and had lunch and did some things at home. We decided to go back for the big finale drawing at 6pm. We walked in and about about 5 minutes later they held the drawing. The gave away several items, dive lights, etc. and then the big drawing for the Zeagle Stiletto BC came up.
Syd won that too.
On the exact same ticket she won the computer on.
Needless to say – it was a bit of a surprise. Its a great BC and she picked out the color and size and poof – she was the proud owner of a new BC. It's yellow and black and even matches the dive computer. It appears she may be able to use a Zeagle back plate on this BC, and possibly even dive doubles with it which would be great, though we may have to see about upgrading it to a Ranger which has more lift for diving with two tanks, etc. It's a great BC though and retails for $600 or so. Which brought here winnings to a bit of a thousand dollars for the day.
It was a pretty amazing day. What a score – and some amazingly good quality dive loot – utterly unbeatable.
In closing a few words about Macs Sports: These guys are great. They do these sales at least once or twice a year and they really go all out on the quality of items they give away. And they have always treated us as customers very well. Syd's compass recently broke (the bezel came off) and when we had our gear serviced they had it replaced under warranty – no charge. We have gone on several trips and did our wreck, nitrox, deep, navigation and stress & rescue courses with them and have always been very satisfied with them. We have greatly enjoyed diving with their staff and have always had a fun time with them all. Here is a big thank you to them, their staff and there exceptional store. Please stop in and see them if you live in the Tampa  Bay area.
2 comments for this entry: