by admin on Feb.11, 2009, under Linux, Netbooks

A large grin now occupies my countenance whenever I boot up my Aspire One. I just can't help myself.
As the grub splash screen comes up with the Solaris branding, and then watching ZFS initialize and SMF start services, ending in a nice cobalt blue Solaris log in screen. I just can't help but smile.
Running Solaris on my little netbook allows me to experiment with so many features I have been wanting to become more familiar with. ZFS, Dtrace and containers are all working fine. And the fun just goes on from there.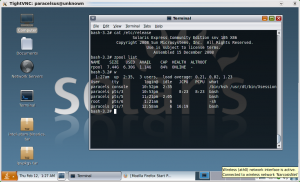 I downloaded an installed Solaris Express Community Edition B105 and installed it via a USB attached CD ROM. The install did take quite some time, and I had to play around with the install options to get the install size down to a reasonable level. By default it wants to install more than 8GB, just larger in fact than then size of the SSD. However, this can be thinned considerably by going through the components to install. I got it down to about 3GB.
One caveat – I actually had to plug in the NIC in order for the networking (wireless and wired) to be properly detected during set up. Otherwise no networking device drivers are installed. Of course you could always install them after via downloading the packages onto a USB key – but why really.
I found the hardware to be very well supported with just the basic B105 install. Wireless networking, sound and X Windows (either GDM and basic Gnome or CDE) work quite well.
There are additional drivers you can get for video,  wireless and SD card readers from either this great blog here or from the HCL site page for the Aspire One (which is itself pretty cool to see). The blog link goes to a Sun employee blog which has many very informative posts on running Solaris on the Aspire One, you will definitely want to check it out. Instructions for installing the drivers are there as well.
Although you can install and run it with only the base 512MB the Aspire comes with, and it is usable, it is a bit slow – not terrible, but you do notice it. I upgraded to 1.5GB and it runs absolutely fine.
You can install either StarOffice off the CD, however I chose to simply download the OpenOffice 3 package for Solaris, and it installed with no issues.
I still wanted a Linux OS as well, and so installed EEEBuntu onto a 16GB SD card and added an entry to Grub to boot to it. This works extremely well, and I can dual boot to either OS just fine. (See this post for more details on how to set this up.)
I really enjoy running Solaris on my Aspire One. So much for the idea "Solaris is great for big enterprise applications, but it is way overkill for a desktop – too much overhead."
I really applaud Sun for making Solaris available as an Open Source project and for the time the Sun engineers took in making it work on the Aspire One.
I am also going to try to install the 2008.11 OpenSolaris release on it and see how that goes and report back. It features a smoother install experience and my be better suited to those who down want the full adventure of the SXCE installer, which is a bit non intuitive unless you are already a bit familiar with the packages.
I've been learning more about Solaris of course and will post some hints from my experience soon. If you have ever wanted to play a bit with Solaris, I encourage you to give it a try on your Aspire One!

6 comments for this entry: