Tag: HPLIP
by admin on Jul.17, 2010, under Linux, My Life
We have wanted a wireless printer for our home, and I've been waiting for the prices to become reasonable. Then last weekend we scored on a refurbished Photosmart Premium C309g-m at CompUSA. Normally $199, we got it with a -$120 instant savings for a total of $79 at the register. For a 802.11g + Bluetooth enabled, reasonable quality photo printer and scanner, $79 just was a damn good deal. Especially considering it uses separate CMYK cartridges – it's exactly what we were looking for. Best. Price. Ever.
But the best thing about it really is the fantastic Linux drivers HP provides via the HP Linux Imaging and Printing (HPLIP) software. You can download the latest version at the official HPLIP site, but you might very well find it is already installed in your Linux distro, it commonly is these days. Just check to see if you have commands such as hp-setup, hp-wirelessconfig or hp-toolbox already. If not, see if hplip is available in your distors repository, or download it using the above link.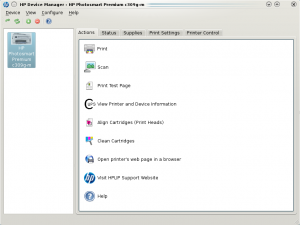 Once installed you will have an HP icon in your systray for quick access to your printer settings:

I first used HPLIP about two years ago at work and was delighted to see how complete it was. It provides a full set of tools to interface with HP devices from Linux and provides a delightful user experience.
On my device, which is a relatively new product, nearly all functions are supported: Wireless printing of course, photo printing (see tips below) and even wireless scanning – which really surprised me. Overall, using this printer in Linux- like many other HP products – is very well supported. Way to go HP!
I did however run into a few little issues which had to be worked though, and you may encounter the same. So here are some notes on what  I did to resolve the snags I encountered.
4 Comments
:C309g, Gutenprint, HPLIP, Paper size mismatch
more...