by admin on Mar.09, 2008, under Dive Trips
Last weekend we made another weekend dive trip to Jupiter Florida, just north of West Palm on the Atlantic side. This was our third dive trip there and the first time we went specifically to see the Lemon sharks! They come in during the winter when the water temps fall and aggregate, the females still pregnant. Unfortunately the water temps have not gotten cold enough this winter, the Gulf Stream is still way to warm to cause them to come closer to land. So while our efforts to see Lemon sharks were not too successful, we still had some good dives.
We had two dives on Saturday and two on Sunday. All were boat dive dives where we drifted along the reef ledges which parallel the coast about a half mile off shore. Depths were about 65′ and all dives were done on Nitrox. The water temp was about 68 Deg. (Brrrr…) but had only dropped that morning, so no effect on the shark migration. The week before temps were in the low 70's. Visibility was not too fantastic, about 25′ to 30′. There was some pretty strong current on the first day, about 3 knots so it was zipping along on the bottom. If you grab the reef (safely) the current would whip you around like a wind sock and you would hold on – suspended and flying above the reef.
A recently certified diver from work (Max) meet us in Jupiter for this trip, and he sure had a stiff gradient to meet on these dives! With all the factors they were definitely not really beginner dives, but he did great – despite this being his first boat dives, first Ocean dives, first dives with strong current, etc. Unfortunately he injured his should pretty darn good during entry on the first dive, but he was able to still do the second dive. After the dives it continued to be inflamed and called for a trip to the doctor. No torn rotator cup fortunately, but definitely put caused some inflammation. He is recovering well though and is looking forward to his next boat trip. Way to go Max – good job on these dives – it was a huge learning step and I look forward to our next trip!
We did see some good marine life though: a huge sea turtle, spotted moray eels, a big old grouper (450 pounder?), Christmas tree worms, and of course a variety of tropicals: angel fish, parrot fish, etc.
We did for once take a picture of the dive boat! Yes, at long last a picture to show we actually do go diving and don't just make up the stories! Neither of us is of course in the picture, so I guess it still does not prove this was us. This pictures also shows that as captain, you need not fear and can be comfortable in any attire you choose.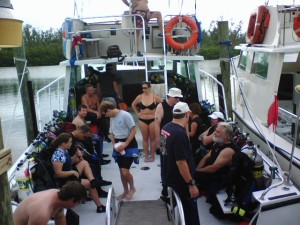 The teen who crewed as the deck had recommended a breakfast spot called Center Street Nook for the next morning, and we took her advice. Located just a few blocks from the dive shop its a perfect breakfast place and the food was quite good. Check it out if you dive Jupiter. The kitchen door had a good dose of humor: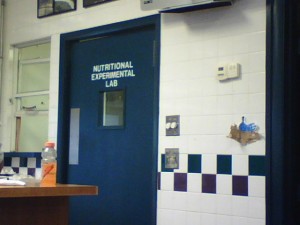 One of the best elements of the place was their coffee cups. They apparently have great "Deserts" (we didn't find out) and advertise a variety of services, so you can contemplate these as you enjoy your morning Joe.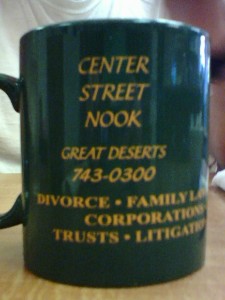 Another great Dive trip to Jupiter. We have enjoyed it each time and we look forward to our next trip there. The water will be warming up soon and hopefully next time we will have better viz. We will let you know!
I wrote up this page to entice some co-workers to go. It was not very effective, but should you like a bit of humor:
Until next time!
1 comment for this entry: